Welcome to Charlie's Diner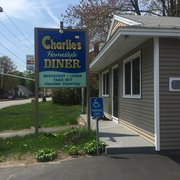 We strive to give our customers a great experience, not only with a delicious home-cooked meal but with excellent service and a promise that your visit will be worth your time and money. We love Charlie's Diner and want you to love it too!
"Charlie's Diner" is named after Kevin Hadley's son. Located in beautiful Merrimack, NH, our establishment serves breakfast and lunch. We also offer customized catering as well. Open seven days per week. Fridays, we serve fresh haddock. Sundays, we serve breakfast only.
Please visit us on Facebook: fb.me/CharliesDinerNH
Monday 6 am – 2 pm | Tuesday 6 am – 2 pm | Wednesday 6 am – 2 pm | Thursday 6 am – 2 pm | Friday 6 am – 2 pm | Saturday 6 am – 2 pm | Sunday 7 am – 2 pm (Updated Oct 2022)